At Goama, we recognize hard work and reward dedication to excellence.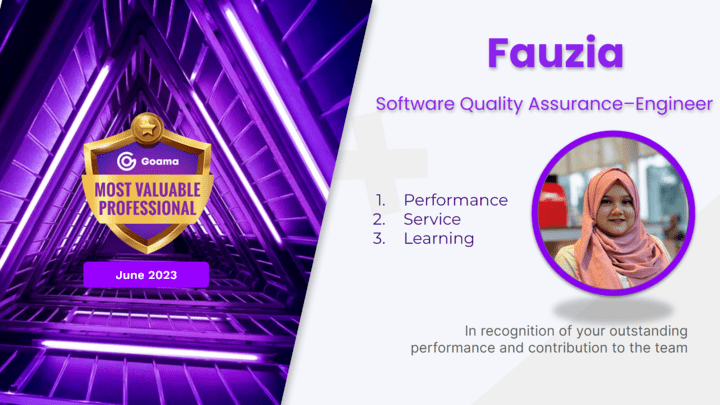 Goama's MVP of June 2023: Fauzia!
We are thrilled to announce Fauzia, Software Quality Assurance-Engineer as Goama's MVP for June 2023! Her dedication, relentless effort, and outstanding performance have set her apart as an exceptional team member. Fauzia's commitment to excellence and drive to deliver top-notch results consistently have inspired everyone around her.
Some of Fauzia's achievements for June 2023 include:
💪 Bug Detection and Resolution 💪
She has identified critical bugs and issues early in the development process, enabling timely resolution and reducing the number of post-release defects.
🛠️ Implementing Effective Testing Strategies 🛠️
She has successfully developed and implemented comprehensive testing strategies that ensure the quality and reliability of software products.
😊 Continuous Improvement Initiatives 😊
Leading efforts to improve the QA process continuously, implementing best practices, and fostering a culture of quality within the development team.
Aim to reach our fullest potential (:
Striving to reach our fullest potential in whatever we do is essential for personal growth, fulfillment, and making a positive impact on the world around us. When we aim to maximize our capabilities and talents, we unlock new levels of achievement and satisfaction. It allows us to set ambitious goals, embrace challenges, and push beyond our comfort zones. Moreover, reaching our fullest potential inspires others to do the same, creating a ripple effect of motivation and empowerment within our communities.
Congratulations to Fauzia!
We wholeheartedly congratulate Fauzia on being named the MVP of June 2023 at Goama. As we celebrate Fauzia's well-deserved recognition, we look forward to witnessing her continue to shine as an exemplary role model for us all. Congratulations, Fauzia, on this incredible achievement, and we extend our heartfelt appreciation for your invaluable contributions to Goama's success.