Like other industries, gamification has crept in health and wellness sectors too. Your fitness tracker nudges you to complete a set of steps or burn several calories every day – for a banner or a badge. Do it continuously over days and you get an even bigger reward. Share it with friends to go to the next tier – the processes to keep you healthy are numerous, but the underlying principle is the same. Gamification has introduced a sense of fun and competition by assimilating gameplay and interaction mechanics from video games.

Healthcare gamification, as a result, has been valued at $25.3 billion in 2020 and is forecast to grow at a CAGR of almost 15% between 2021-2027. As we continue to make strides in analyzing user behavior, more healthcare and wellness organizations are accepting gamification in their daily processes.
How Can Gamification be Employed in the Health and Wellness Industry?
Gamification simply said, is the process to transform day-to-day business processes into milestone-based, incentivized activities. Gamification is a tool that organizations leverage to increase user engagement, interactivity, and retention – while increasing brand and/or product awareness, and even broadcasting customer-centric values and messages to their target demographic.
In the health and wellness industries, gamification points to incorporating the same principles of video games like gameplay mechanics and high user interaction to incentivize and promote physical and wellness activities, and to provide user-centric customization while analyzing several key data points generated during these activities.
Benefits of Gamification in the Healthcare Industry:
In the realm of health and wellness, gamification can be beneficial in more ways than one, including:
Increasing user engagement and motivating them to complete their health goals
Transforming monotonous activities like daily health checks into fun incentivized activities. This is pivotal for certain key sections of the customer base like diabetes and cancer patients.
Promote an organization's commitment towards their users' health and help people on their wellness journey.
Gather vital user health data via different health trackers to provide better support and customization, increasing customer focus.
Building a long-term connection with the customers.
Promoting the brand value and boosting brand/product awareness.
Some Examples of Gamification in the Health and Wellness Industry:
Nike+
Nike+ is a program, consisting of an activity tracker and an app. A microchip in certain Nike shoes measures the distance and the pace of a run or a walk and the data is then visible in the app. Nike+ provides a nice leaderboard where users can compare their scores, and the winners stand a chance to win rewards, including coupon codes, tailored fitness programs, and more. Nike+ also released a fitness tracker called FuelBand (now discontinued) that worked in tandem with the iPhone and the Nike+ app.
Fitbit/Apple Watch
The best examples of gamification in the health and wellness industry come in the form of wearables and fitness trackers. The two biggest players in this domain have been Fitbit and Apple, providing users with connected fitness trackers – each replete with their ecosystems. Both Apple and Fitbit use mobile apps in tandem with the data recorded by the fitness band (several to choose from for Fitbit, Apple Watch for Apple). Users get rewarded with different badges for completing their daily quota of physical and mental wellness activities, as well as trying out new workouts. Fitbit is arguably the most popular health and wellness brand in the world, with almost 1500 corporate wellness program tie-ins, including big customers like HP, IBM, Bank of America, etc. These programs have reduced the overall healthcare costs for these employers by boosting employee health and promoting better lifestyles. Close social integration and a full ecosystem around health and fitness have boosted the sales of the Apple Watch to make it the best-selling wearable currently in the world.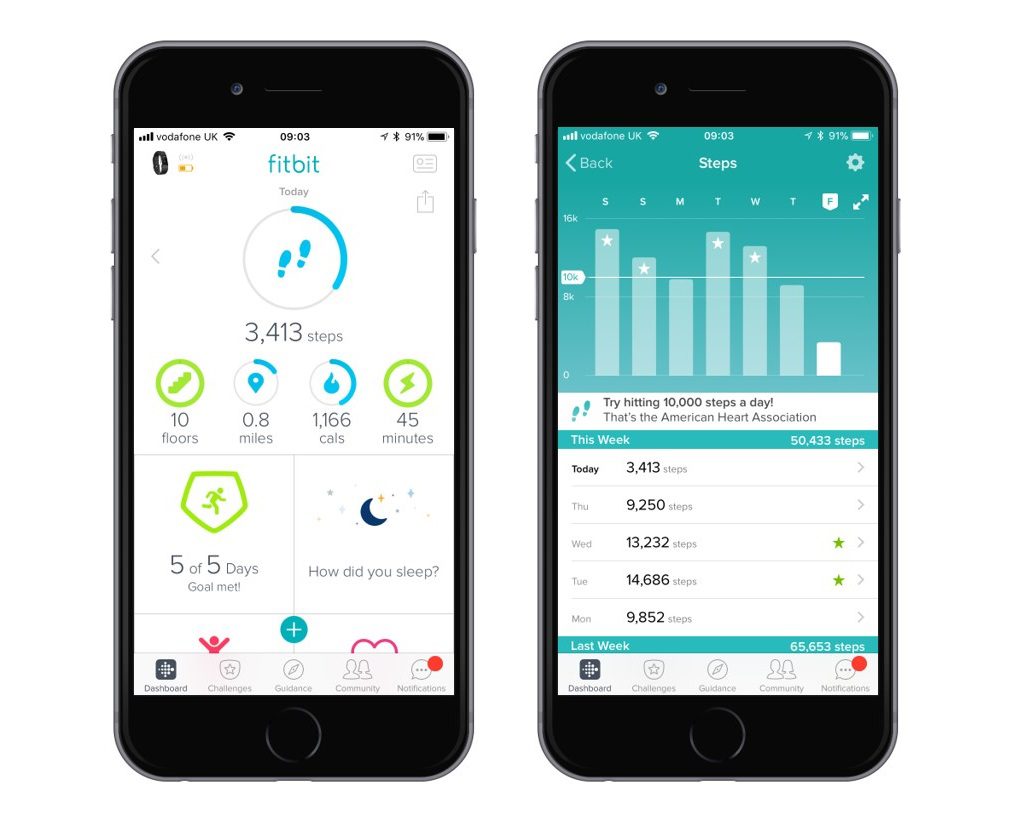 Re-Mission, a video game developed by the non-profit organization HopeLab, targets a serious problem – people suffering from cancer not taking their medications on time. In "Re-Mission", players took control of the nanobot "Roxy" to fight cancer with chemoblasters, radiation guns, antibiotic rockets, and other weapons derived from actual medical procedures. The game proved to be a huge success, spawning a sequel, Re-Mission 2.
Mysugr
MySugr is another ingenious example of introducing gamification principles into tackling the task of monitoring and dealing with Diabetes. MySugr mobile app uses attractive graphics and an interactive platform to transform the day-to-day blood sugar monitoring and other tasks that people with diabetes have to go through, into fun, incentivized activities. It seamlessly integrates with blood sugar monitors and ties in with both Google and Apple Health platforms. MySugr transforms diabetes into a virtual 'monster' – akin to Tamagotchi creatures – and users must finish daily activities to nurture it so that it does not go out of control. Additional activities can also be completed for more rewards. MySugr also provides a dedicated app for children, further expanding its reach.
–
More than 71,000 fitness apps were released in 2020. Our increased reliance on mobile digital platforms and an overall reduction in focus has forced organizations to look towards more attractive, interactive ways to capture our interest. Gamification has led the way – by helping companies integrate many principles that made the video games industry the biggest money-maker in the world today. Health and wellness industry has been at the forefront in the past couple of years due to the pandemic, an uptick in chronic diseases, and the emergence of health consumerism. More creative ways of gamification have benefited. The consumer gets rewards for completing activities beneficial to their health – and the organizations receive increased traffic, revenue, and a plethora of loyal customers.