[vc_row][vc_column][vc_column_text]
Gamers have it good in 2021. In fact, gaming has never been in such a healthy position, with an array of consoles to choose from these days alongside handheld devices such as smartphones. Gaming is now a big part of everyday culture in today's modern world. It's only going to go from strength to strength, too.
One aspect of gaming which has really kicked on in recent times is mobile gaming. We all have access to a smartphone in the modern world, therefore opening up an array of gaming possibilities in the process. This all comes despite the release of a sophisticated console such as a PlayStation 5, with smartphone gaming offering something different to a console gaming experience. It looks like mobile gaming is here to stay, ultimately.
So, how does this all translate to a brand's engagement? Here at Goama we provide brands with the exciting opportunity to freshly engage with various segments of the audience using mobile games. 
Goama's Platform
We offer a unique competitive casual gaming platform that is hosted on leading super apps such as Rappi, Gcash, Cricbuzz spanning from Latin America to South East Asia. These games can be customised for the brand paving the way for branding and advertising. Coupled with multiple CTAs, it will guarantee a unique  form of engagement with your brand's current audience and attract a new segment.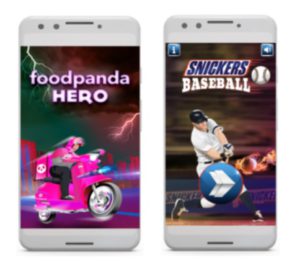 Custom games created for Foodpanda and Snickers
Several brands such as Snickers, Foodpanda have already reaped the rewards from such campaigns. It enabled these brands to engage with audiences averaging over 15mins per user. If you want to have a fresh dose of engagement with your audiences, contact us via www.goama.com 
Source: https://www.harrogate-news.co.uk/2021/02/05/mobile-gaming-to-do-even-better-in-2021/
For more information, you may visit the following websites:
Website: https://goama.com
Facebook Page: https://www.facebook.com/goamaofficial
Instagram: https://www.instagram.com/goamaofficial/
Youtube: https://www.youtube.com/channel/UCHPLZ33WN35Fvos7LU3_q3w
Twitter: https://twitter.com/goamaofficial
[/vc_column_text][/vc_column][/vc_row]