Goama receives investment money and partnership with entrepreneur Leonardo Wehe
COLOMBIA, 12 October 2021 Goama successfully pitched to Sony's Shark Tank Colombia securing an investment of twice what it was seeking and maintaining the valuation.
To participate in the show and secure a Shark's investment is a dream come true for the Goama team, and the funds will be used to further accelerate Goama's growth in the region .
Nicolas Koifman, VP of Latin America and Fernando Cardona, Business Development Manager for Goama succeeded in pitching the company's gamification solution during the 4th episode of Shark Tank Colombia's 4th season. The episode aired on Friday October 8th at 10pm Colombia.(GMT-5)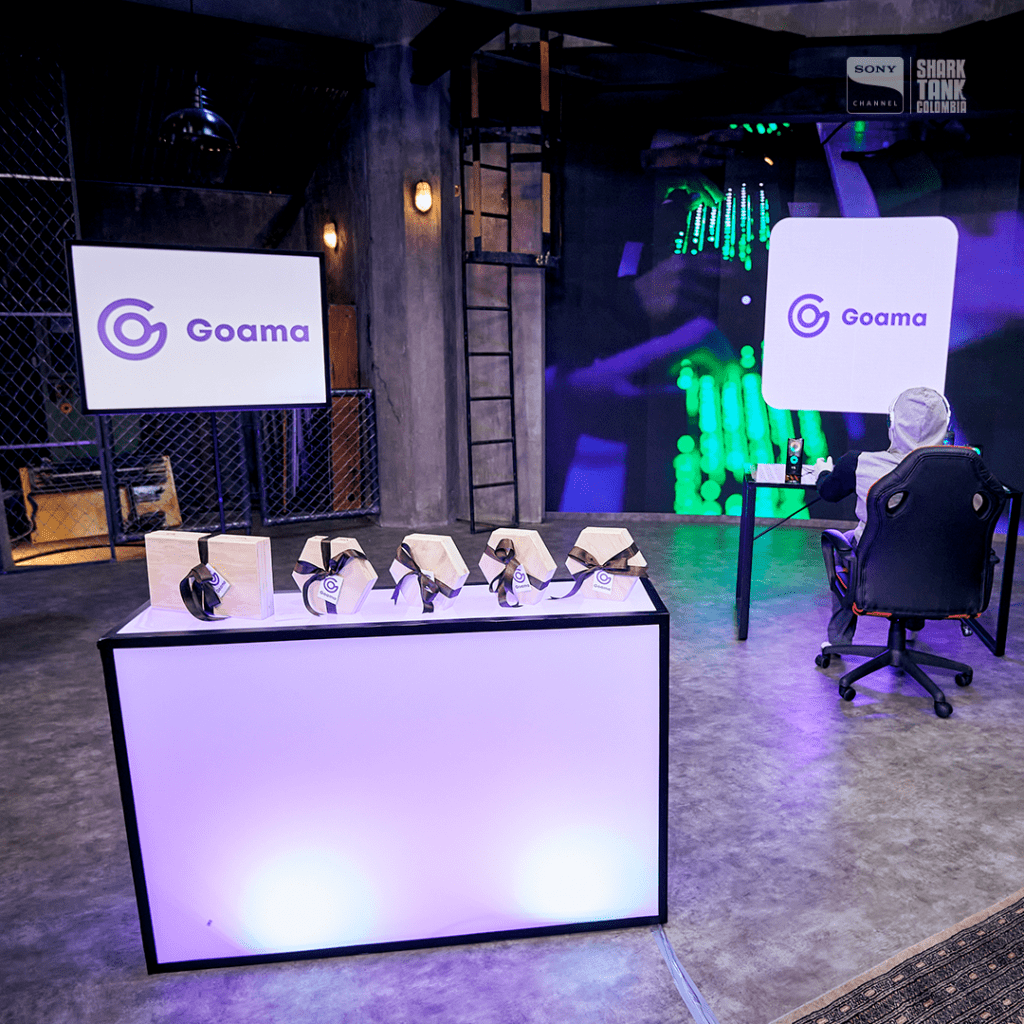 Colombian entrepreneur Taro Araya, who also acts as CEO of Goama said :
"Swimming with the Sharks has been a great experience and we are very happy that we have survived the tank. We are grateful to have a great Shark such as @Leo Wehe to join our investor list and looking forward to continuing our expansion in Latam while enjoying the fun ride. We are looking forward to continuing our growth in LATAM as we cover the countries that make up this awesome region. "
Goama will use the funding specifically to fast track our efforts in Latin America and ramp up our distribution channels and teams.
Argentinean Shark Leonardo Wehe, Shark Tank said :
"Closely following the gaming industry for many years, I realized instantly the quality of Goama's development and the unique business approach to connect millions of engaged super app users with staple consumer products. This Industry is a crazy thing. The market they are in is so big and they are billing so much money and the companies are valuing them at such a high value. Rarely in Shark Tank does a company appear that has the potential to be worth hundreds of millions of dollars, so quickly.
Looking forward to actively joining the Goama family and the incredible (and challenging!) journey that lies ahead."
Nicolas Koifman VP of Latin America commented:
"Our participation in this great show has been very challenging but also fun and rewarding. We succeeded in making the sharks experience Goama's gamified platform that our current partner apps are already using. We also created a customized game just for Shark Tank and presented it on the show and from there it was clear to see how a brand can generate even more audience engagement through such activations.
Having someone like Leo Wehe be a part of Goama is key for us in the Latin American market. This is especially important as we plan to expand further in the Latin American market."
###
About Shark Tank
"Shark Tank" is a critically acclaimed and multi-Emmy Award-winning reality show that has reinvigorated entrepreneurship in America. The Sharks – tough, self-made, multi-millionaire and billionaire tycoons – have searched nine seasons to invest in the best businesses and products that America has to offer. The Sharks are billionaire Mark Cuban, owner and chairman of AXS TV and outspoken owner of the 2011 NBA champion Dallas Mavericks; real estate mogul Barbara Corcoran; "Queen of QVC" Lori Greiner; technology innovator Robert Herjavec; fashion and branding expert Daymond John; and venture capitalist Kevin O'Leary.
About Sony Pictures Television
Sony Pictures Television (SPT) is one of the television industry's leading content providers, producing and distributing programming worldwide in every genre and for every platform. In addition to managing one of the industry's largest libraries of award-winning feature films, television shows and formats, SPT is home to a thriving global production business operating 22 wholly-owned or joint venture production companies in 12 countries around the world. Sony Pictures Television is a Sony Pictures Entertainment Company.
About Goama Pte. Ltd.
Goama is the leader in gamification, setting the benchmark for digital innovation and user engagement. Its turnkey solution offers a plug and play platform that creates unparalleled gamified experiences that enable business partners to build sustainable and engaged online communities. Goama has worked with leading super apps and brands in more than 24 countries to help them drive user engagement, increase revenue streams, and acquire new users.
Goama's offering extends to brands with customized games on its tournament platform to drive lasting brand engagement that is easily scaled across digital mediums. This creates a paradigm shift in advertising, providing more opportunities for brands to build meaningful experiences for their audiences on their channels or through Goama's partners.
For further information, please contact:
Mr. Nicolas Koifman
VP for Latam
Email: nicolas.koifman@goama.com
Linkedin: https://www.linkedin.com/in/nicolaskoifman
Website: www.goama.com
Mr. Wazir, Tengku
Head of Marketing
Email: tengku.wazir@goama.com
Linkedin: https://www.linkedin.com/in/tengkuwazir
Website: www.goama.com