The Food and Beverages industry thrives on user interaction, reviews, and word-of-mouth endorsements. However, traditional ways of marketing in this domain have reached their limits – forcing companies to look elsewhere to find inspiration. Gamification has emerged as a revitalizing tool to create new market buzz, attract and convert new customers, retain existing users, and decrease banner blindness. 93% of marketers agreed that gamified, interactive approach to content presentation was effective in educating buyers, and 88% said that gamification played a pivotal role in differentiating their product from the competition.
How can Food Apps be Gamified?
Gamification techniques can be added to the food apps in several key areas to enhance them for better user interaction, create an ecosystem of loyal customers, and generate awareness about brands and their messages. Let's explore some ways you can do this:
Incentivize new user engagement from the starting step, including onboarding rewards, promo codes for signing up, social media sharing, and referral bonuses. Staggered referrals and time-limit bonuses are also good ways to keep users hooked and attract more potential customers.
Gamify purchasing by introducing loyalty points, reward first purchases via discount codes or coupons.
Create a tiered loyalty program where users gain points for their purchases, referrals, and other actions and then spend those points to unlock more benefits – to incentivize them to stay longer with your app/platform.
Incorporate gamification techniques like innovative trivia, quizzes, and other methods to gather user data and analyze them to understand your customer base. Leverage these data points to customize your product to provide a more user-focused, customized experience.
Benefits of Gamifying Food Apps:
Gamification in food apps (including food delivery apps) have quite a few big benefits, including:
Boosting user engagement
Converting more casual scrollers into loyal customers
Less banner blindness
Increasing customer retention
Better brand awareness and message conveyance
More understanding of user demographic by analyzing customer data
Offering a more customer-focused, personalized product
Examples of Gamification in Food Apps:
Pizza Hero by Domino's:
Domino's Pizza Hero app, created for iPad in 2011, is a perfect example of gamification in the food and beverages industry. Pizza Hero was a fun game where users assumed the role of a pizza maker, intending to create the most perfect pizza. On top of the experience of creating a pizza from scratch, players could order the pizza they created to their home. Not only that, but players with great pizza-making skills also stood a chance to win a jackpot – a job at Domino's Pizza.
Through the app, Domino's engaged users attractively and increased their brand awareness. They also incorporated game mechanics into their hiring process seamlessly. While the app was created just for fun, Pizza Hero turned out to be a huge success, with over 300K downloads. 7million pizzas were created through the app, and it increased Domino's sales revenue by 30%.
Chipotle and 'The Scarecrow':

Chipotle, to create awareness about their messages about ethical food sourcing and sustainability, created a short animated film called 'The Scarecrow' and an associated game of the same name. The film showed several harmful practices which were fairly standard in the food industry and how Chipotle's goal was different, eco-friendly, and geared towards the health of their customer base. The Scarecrow lit the market abuzz, with 18.4 million conversations across 17 social media platforms, and a 92.7 social sentiment score. The campaign -originally started in 2013- also won a Cannes Lions award in 2014 and helped Chipotle replace Taco Bell as the top fast-food brand in the United States.
Starbucks Rewards:
Arguably the best example of a gamified loyalty program is Starbucks Rewards. This loyalty program has had a monumental impact on the food and retail industry, boosting sales revenues for the global beverages giant, promoting an ecosystem of customization, pre-ordering, and payment. Loyal customers can get promoted to different tiers – upper tiers come with more exclusive benefits, coupons, discount codes, etc.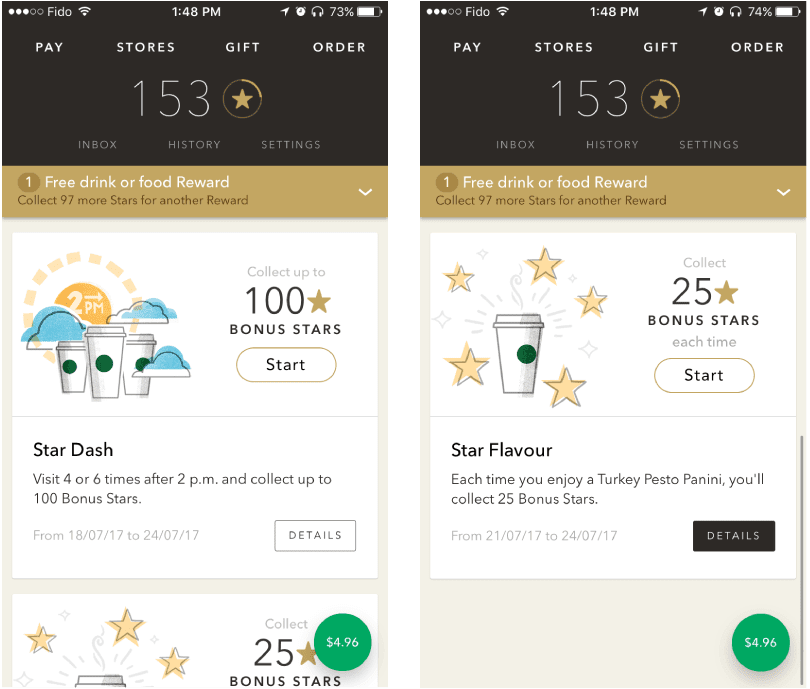 —
Gamification has moved out of just being a proof of concept to an actual, reliable mechanism that companies are leveraging every year to get big results. Globally, the gamification market is valued at almost $12 Billion. This uptick means that gamification is spreading across every stratum of the market – including the food apps. Food apps have seen a surge in the pandemic years, and the increased competition has forced organizations to look for innovative measures to appeal to their customer base. Gamification has come in handy – in inviting more user interaction through a milestones-and-rewards-based approach. Be it delivery or restaurant apps, the food industry is riding the gamification wave to create newer interaction models between their customer base. If you are an organizational lead or a product owner, the time is now to hop aboard the gamification train!