Do you really understand what is Gamification?
Gamification may not be what you think it is – they are not simply a game that you play for many hours and earn rewards through it. It goes much deeper in fact – to motivate the behavior of users by touching on their intrinsic motivations through self-accomplishment. Today, we are going to touch on the Delivery Apps Gamification Strategies
Goama's Gamification Delivery Apps
Now that you understand what is Gamification, let's move on to the Delivery Apps Gamification Strategies.
Lightweight Easy Integration to your mobile app or website
Gamified App Experience for your users
White-labeled + Customizable UI
Rewards within App Ecosystem
Increase User Retention using Branded Games
By having a branded game of your own, you will never lose your users' attention again! Keep your users engaged with valuable content and rewards.
Increase user engagement
Increase user purchase frequency
Increase average ticket
Food Panda into GCash Example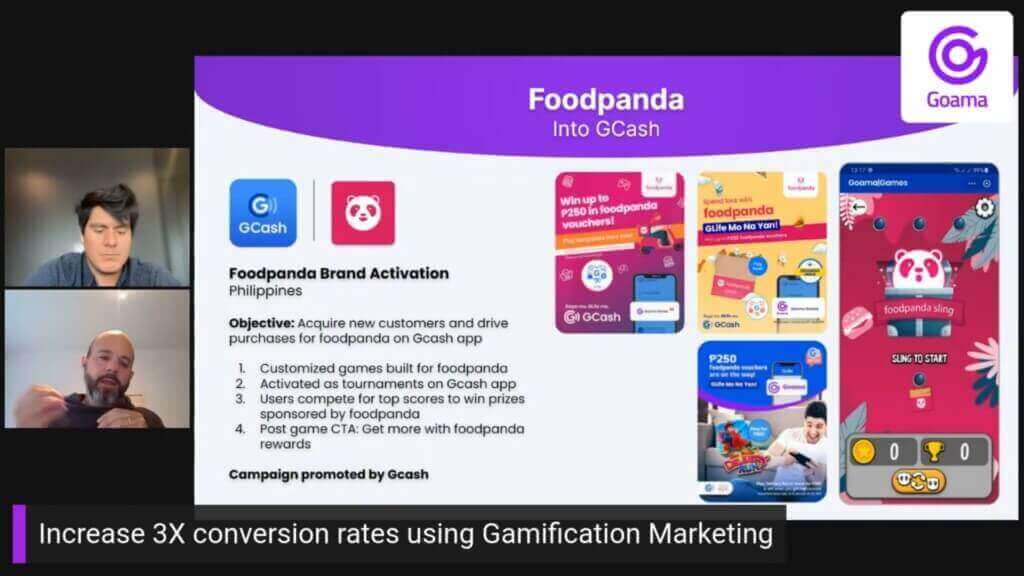 Goama's platform is connected to GCash, an e-wallet. We developed some games for Food Panda integrated with GCash – the users in the GCash app are able to play the Food Panda games and win vouchers.
Game Customization and Development
We will customize your game based on your branding, and choice of game genre, and incorporate your logo into the game! We have different types and genres of games you can choose from – or customize from scratch!
Redemption Systems are for users to redeem their rewards and/or prizes they won by participating and winning in a game or tournament.
Tickets: Users can earn tickets as their loyalty points through various activities in the app.
Leaderboards: Users can check their rankings. They will be proactive as they will want to climb the leaderboards for certain rewards
Post-Game Call-to-Action: Users can share their high score on social media as this in return drives new traffics to the app and promote new customers for the company.
Player VS Player: Users who are looking for some thrill to play against another player can have the option to do so.
Social Sharing – Refer a Friend: Users can share their referral link with their friends and both of them will earn tickets.
Conclusion
Delivery App Strategies are important as they are able to increase user acquisition, user retention, and conversion rates. What are you waiting for? Contact us now and find out how we can help your company develop your very own Delivery Apps Gamification Strategies!